Demanding land deed, man sets himself on fire in Guwahati
February, 24
A man allegedly set himself on fire in front of the Secretariat at Guwahati on Monday during an agitation to demand land deeds for people living on the hills here.
45-year-old Pranab Boro poured petrol on his person and set himself on fire during the agitation organised by Krishak Mukti Sangram Samiti (KMSS) and various Unnayan Samitis.
PTI A file picture of KMSS President Akhil Gogoi.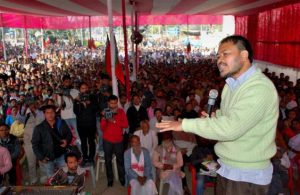 He was admitted to the Guwahati Medical College Hospital with 100 per cent burn injuries, hospital superintendent Dr Ramen Talukdar said.
The KMSS and other organisations in support of their demand hit the road threatening to disrupt the land patta distribution programme of the state government at the Sankaradeva Kalakshetra on Monday.
A function for the land deed distribution, to nearly 500 landless people of the city, however, took place as scheduled and was attended by Chief Minister Tarun Gogoi.
KMSS leader Akhil Gogoi blamed the Chief Minister for the immolation incident.
The KMSS had earlier threatened to disrupt a state government land patta distribution programme by Chief Minister Tarun Gogoi, which, however, took place.
Speaking to reporters after the function, Mr. Gogoi described the immolation bid as unfortunate.
"There is no justification for it … His demand is that the people living on forest land and water bodies be given land deeds … How can that be done?" Mr. Gogoi said.
"They are encroachers and I cannot go against the interest of environment and the people," he said.
"What wrong have I done by distributing deeds? KMSS leader Akhil Gogoi had only asked us to speed up the process of distributing deeds," Mr. Gogoi said.
Shocked at the immolation bid, Akhil Gogoi announced withdrawal of the agitation.
"We have withdrawn the agitation as 100-200 more people decided to immolate themselves," he said, adding that that the best treatment would be provided to Mr. Boro.
Health Minister Himanta Biswa Sarma said the expenditure for Boro's treatment would be borne by the state.
Asked if the government would take action against Mr. Akhil Gogoi, the Chief Minister said all steps would be taken to maintain law and order in the state.
On Congress Vice-President Rahul Gandhi's rally on Tuesday in Guwahati, Mr. Tarun Gogoi said "There will be no impact on his meeting. Why was there no protest against Modi's rally?"
On Sunday, Mr. Akhil Gogoi had said that the KMSS would not allow Mr. Gandhi to hold the rally in protest the state government's refusal to give landownership till 2011 to people staying in the city's hill areas.