Ten 'big facts' about India
India often attracts generalisations and stereotyping, but more often it defies them. After all, it is an enormous and varied place with the genetic, linguistic, culinary and sartorial diversity which are usually found in a continent. Sam Miller, a former BBC Delhi correspondent who has spent more than half his adult life in India, has chosen 10 'big' facts about India.
POPULOUS STATE
Experts predict that India's population will peak in the 2060s
India's population will (probably) overtake China's in 2028.
According to UN estimates, India will become the most populous country in the world in just 14 years' time, when it will have about 1.45 billion inhabitants.
For many in India, becoming the most populous country will be an achievement, marking the country's progress in its rivalry with China.
For others, particularly from the older generations, it represents a failure of the country's decades-old attempts to bring its population under control – which included a controversial and counter-productive mass sterilisation campaign during the 1970s.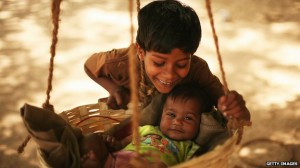 In fact, birth rates have fallen significantly in almost all parts of India, driven by female education, rising household incomes and greater availability of contraception though this has been partially offset by increased life expectancy.
India's population is likely to reach about 1.6 billion in the 2060s, before decreasing to about 1.5 billion by the end of the century.
By then, according to the UN study, Nigeria may have overtaken China as the second most populous country.
Sam Miller is the author of A Strange Kind of Paradise: India Through Foreign Eyes published in India by Penguin India this month, and by Jonathan Cape in the UK in June 2014
http://www.bbc.com/news/world-asia-25881705