Edinburgh stage for Bollywood star
The University has hosted a visit by Bollywood superstar Shah Rukh Khan.  The actor, one of Bollywood's most popular stars gave a public lecture at the University's New College.Dr Khan spoke after receiving an honorary degree from the University's Chancellor, HRH The Princess Royal.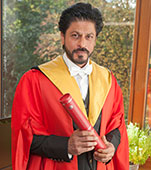 During his visit, Shah Rukh Khan spoke about his pride at receiving an honorary degree.
Shah Rukh Khan
Shah Rukh Khan is one of the most influential actors in the world, having appeared in more than 80 Bollywood films.
He has received 14 Filmfare Awards, honouring excellence in the Hindi language film industry, and has more than 15 million Twitter followers.
He was awarded one of India's highest civilian awards, the Padma Shri, in 2005.
His Edinburgh degree of Doctor Honoris Causa was given in recognition of his success as an actor with a global reach and his outstanding record of philanthropy, altruism and humanitarianism.
http://www.ed.ac.uk/news/2015/151005-shahrukhkhan1